Beating Holiday Stress: Navigating Parenting Through the Holidays
Guest Post – By Jennifer
For parents, especially those dealing with anxiety or in the midst of recovery, the holiday season and New Years can be both more enjoyable, and well as more stressful, with young children at home. Keeping up with traditions like the Elf on the Shelf coupled with maintaining the secret of Santa while creating a magical experience for children, and keeping yourself peaceful is quite the undertaking. It's no surprise that amidst keeping up with holiday musts, parents often forget that this time of year can also be stressful for kids. Here are a few ways to help your kids cope with holiday stress while maintaining your sanity, too.
Set Realistic Expectations
As a parent, dealing with anxiety and your personal recovery can be overwhelming as is. Then add the Holidays, kids, and other family members and this time of the year can feel daunting. One thing that can help calm the stress is having realistic expectations.
When it comes to children, they can sometimes be demanding with their holiday wish lists, wanting everything from the unaffordable to the impossible. Instead of stressing out trying to come up with ways to afford expensive items, transition to a lower-key holiday season. If your kids are still very young, this is an easy task.
However, if they're older and used to getting dozens of presents under the tree, you may need to transition gradually over the course of a few years. Start by replacing one or two gifts with something heartfelt or handmade, and explain how these gifts are more meaningful than the latest toy store craze.
Know Your Limits
Try not to take on more than you can handle this holiday season. Getting enough sleep, avoiding stress, and being fully present in every moment is the best way to create a memorable holiday for your family. Don't accept invitations or make plans that will leave you over-extended. It's okay to decline invitations to holiday parties or other events if you're already over-booked.
Some things are unavoidable, but there may be things you can do to lessen the stress. For instance, you may not be able to tell your extended family that they're not welcome to spend a few days at your home, but you can hire a pet sitter to avoid the stress of trying to separate an anxious pet from your niece who is petrified of dogs.
If your house is a disaster and you just don't have the time to give it the attention it deserves before your family is due to visit, hire a housekeeper. There's no shame in outsourcing your tasks if it means you can be more present to enjoy the season with your family.
If you're seeing a counselor or a therapist, make sure to book a meeting with them before the Holidays are in full swing. Plan coping strategies and ways to de-stress and even simple boundaries you can practice such as, "Thank you for the invite, but I won't be able to make it this time."
Stick to Healthy Routines
A complete upheaval in the daily routine can be disastrous for kids and parents alike. Try to maintain your usual schedule and routines as much as possible to help everyone feel more at ease. Have breakfast at the same time each day, and stick to your kids' usual bedtime as closely as you can. While indulging in tasty holiday cookies and cakes is irresistible for many kids, make sure they do so in moderation to avoid a sugar crash that leaves them cranky and uncooperative.
Many children feel anxious and begin to exhibit behavior problems when they don't know what to expect. By sticking to healthy routines, you can create a sense of consistency that will help your kids relax and enjoy the magic of the holiday season. Not only are routines helpful for kids, but well-behaved, cooperative children help their parents get through the holidays with ease.
Plan Downtime for Everyone
Sometimes, you have no choice but to disrupt your family's routine. If you're visiting relatives out of town, you may be at the mercy of their schedule. No matter how hectic your holiday schedule, plan adequate downtime for your kids and yourself. If you have a week filled with holiday parties, set aside at least one day to relax together at home, individually or as a family.
Everyone needs time to decompress, and the excitement and constant activity that often happens during the holidays can leave kids exhausted and cranky. So whether you're traveling or spending the season in your hometown, balance activities with plenty of downtime to give everyone time to rest and recharge.
No doubt about it: the holidays are one of the most stressful times of the year for many people. Parents are responsible for not only keeping their own stress in check but also helping their children cope with the hustle and bustle of the holiday season. Making smart decisions, setting realistic expectations, and planning ample downtime for the whole family will help you emerge unscathed in the New Year.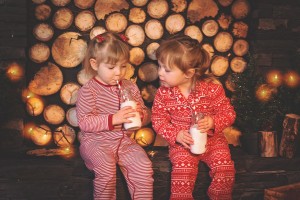 *Thanks Jennifer for this guest post and the great Holiday reminders.
With Love,
Z :)