Hi Friends,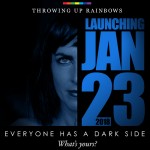 I'm ecstatic to let you know that this month on January 23rd, my latest project will be launching.
It's a podcast called Throwing Up Rainbows and it's about addictions and destructive behavior. Season 1 invites you into the secret world of eating disorders. I'm going to let you into my personal world of darkness and light, by sharing compelling, personal tales of my eating disordered past.
In case you're new to my site, I bounced back and forth between anorexia and bulimia for 11.5 years before I finally got healthy. This addiction stole a lot from me and it took me a long time to find freedom and recovery from its chaos.
Addiction effects almost everyone, whether it's us, or someone we know or love. I currently work at a drug and alcohol rehab and I've come to see that the symptoms we may display may be varying, but addiction is addiction.
As one of my clients said recently, "We all have an addiction and it took something from each of us." I spent nearly a decade secretly hating myself and wallowing in shame. The more we think we're a horrible f**k up, the more we're going to reach for our addiction.
Until we can find out what's underneath, we will continue to use our "drug of choice" as a band-aid for our particular pain.
I'm interested in how each of us can be whole, free, and happy. There was a time that I honestly didn't think that I could have or be any of these. Thank God I was proved wrong. Recovery is not peaches, unicorns, and sunshine but it's absolutely worth it to gain the YOU that was buried underneath the rubble of pain and disconnection.
I want to talk about all the real shit underneath addiction
so that we can live free.
Podcast details:
Episodes are 20 minutes max.
Each episode is blended with an ambiance of dynamic, haunting music thanks to one of the various skills of my podcast teammate, who's a talented musician. Very cool!
On the morning of January 23rd the first episode goes live on the site. Click in and listen anytime after that.
For you special peeps on this email, Season 1 will talk about how my eating disorder started and when I first realized it was a problem. There are also two special interviews, one with my mom and one with my dad, about my eating disorder as a teen.
I'll send a reminder with the link next week. Tune in and tell your friends.
With Love and Aloha,
Z :)