The Fruit of Kindness
By Z Zoccolante
"The fruit of the spirit is love, joy, peace, patience, kindness, goodness, faithfulness, gentleness, and self-control" – Galatians 5:22-23
The Bible verse above was one I heard as a kid. Growing up in Hawaii, I'd picture all kinds of tropical fruits in the garden, all these ways in which trees show the world who they are. A mango tree produces mango fruit. A lychee tree, lychee, and so on.
People are the same even though we don't have branches and fruits. We have words, actions, and behavior that become our character. These things become who we are.
Today's tiny thought is on Kindness.
Sometimes we may think of kindness as having to be some huge dramatic thing. But most kindness shows up in the smallest, little ways that have huge impact on those who receive them.
We all know the story about the beach covered with starfish and how a man said there's so many starfish here, what's the point of throwing them back. And the boy threw the one he hand in his hand into the ocean and said, "It made all the difference to that one."
Kindness can feel small and unassuming but it's one of the most powerful ways we connect to each other behind all our masks or separations – we have a moment of human connection that bridges the gaps of our disconnection.
One of the moments I've experienced was at a job I had. I had a few friends there who I'd chat with about real things in my life. One day something happened and I got super triggered and furious. I found my co-worker James, who I trusted, and told him briefly what had happened and how upset I was.
Of course, it wasn't just the event it was past stuff that connected to the same infuriating feeling. That's why it was such an annoying trigger for me.
He motioned for me to stand up and I thought maybe he was going to walk with me around the block so I could calm down. Instead, he motioned for me to step over and he gave me a hug.
For those of you who don't know me, this is something my friend's and I will do after something happens. We will either ask, "Do you want a hug?" or sometimes one of us will come out of our rooms and just say, "Can I have a hug?"
I stepped into my friend's space and he gave me a hug and I felt like I was going to cry. He didn't give me a half-ass hug, like the pat on the back kind, but an actual one that he let me dictate. By this, I mean that he stayed there as I hugged him for a few long seconds before some other co-worker made a comment and I let him go saying simply, "Thanks." He nodded.
This meant so much to me because I knew that my co-worker friend didn't really like to be touched. It meant so much to me because in that moment I felt as though he was being a kick-ass friend to me. He didn't have to say anything or fix anything but he gave me a gift that said to me, without him saying anything, "I'm here for you friend. I see you. That sucks. You'll be ok."
The kindness in that moment will stay with me as one of those lasting imprints. It was such a simple gesture, but profound to me. I think back to how I was a loner for a lot of my life, and I didn't use to share with anyone things that were important or when I was sad or upset. In the same way, he stepped a little outside his comfort zone to gift me something that was important to me in that moment – a hug, a way that I feel supported.
Kindness shows up in the littlest of ways and it can change someone's day. Kindness has the power to change someone's entire life.
Remember this as we go out into the busy world. Kindness is the little things and . . .
Kindness matters.
Kindness matters.
Kindness matters.
*And check out a new episode of the Throwing Up Rainbows Podcast Season 2 here.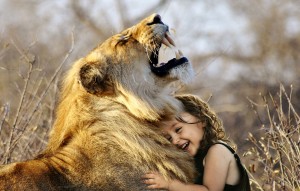 With Love,
Z :)