The reason I want fame is for its influence. When you're famous you can post about your morning latte and people retweet it all day. People take notice.
Underneath the fame lies something we all seek – significance.
I have dreams of getting Santa bags full of letters from recovered people. They tell of the freedom of their new life and the expansion of their minds. Of relationships that have been salvaged from the abyss, and families that have successfully jumped the gorge together. People have survived with gusto and ended up on the other side, where smiles are plenty and the world is imperfectly perfect. Where there is freedom and food holds no demonic charge, and bodies are loved and cared for.
I have dreams of thousands of letters like stacks of hay scattered around the room in the tale of Rumpelstiltskin. The letters of the words don't point to me. They don't tell of fleeting whispers that I managed to hone on a page. Instead, they prove that people are magic and we have the power to transform our lives. Just as the story of Rumpelstiltskin goes, we too can weave gold from the hay that litters the floor.
For Members only
Listen to or download the podcast of this blog.
Hidden mp3 player
To become a member, click on REGISTER on the sidebar to the right!
We can make beauty from our chaos.
What we long for our struggles to say is that we have not fought in vain. That after the battle there will be peace, after the harvest there will be celebration, after we have planted persistently we will look into fields of gold glimmering like waves in the sunlight.
If we believe that we matter in the world then we have a sense of balance, of emotional levitation, of energy that propels us forward.
The same goes for our message. Often, we become nervous or insecure when talking about ourselves, or our writing, art, or experience. Friends have told me that sometimes they feel selfish when they put their work into the world, and are insecure about promoting it.
The vital thing to remember is that often we aren't promoting ourselves with a big red balloon and arrow pointing down on our heads. The reality is that we're passionate about the message we're sharing and that message is bigger than us. The message is bigger than us. This is important so I want to repeat it again.
The message we're sharing is bigger than us!
If the message is larger than me, it takes the pressure off me being in the spotlight. I become a conduit for a greater message. And face it, that message is always going to be more interesting than little old me. That message is what others take and run down their own paths, towards their own goals, and dreams, and healing. We can be the bearer of great news.
It's important that we feel that our message matters because it will make us feel as though we matter.  During limbo times – while waiting, while working but not seeing the payoff, while gathering courage . . . etc., we can lose heart. We can forget that our work in the world has value, that it matters.
I was feeling out of sorts one day, not enjoying limbo, and feeling pretty bleh, like I wanted to crawl under a warm rock or sleep the day away on the sliver of sunny carpet next to my cat. Then I got a text from someone who listened to my blog, and an email saying it was beautiful and thanks for sharing, and a response about it being inspiring.
The rock levitated off my brain. The lightness that followed reminded me that even though I'm not a big star yet, I can affect people letter by letter, word by word, story by story. Famous or not, it's about reaching people, like the well-known tale of the man throwing starfish back into the ocean one by one.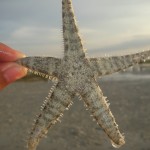 "It made a difference to that one," the man said as he threw one starfish back into the water.
As you go through your day remember that, whoever you are, you have the ability to influence those around you more than you realize. If you have a message, share it bravely and repeatedly. Sharing your work isn't bragging or being selfish in the telling.
Sharing your work is about believing that your message is bigger than you. (Tweet this)
When you don't share your work, it does the world a huge disservice.
There is one person out there today who desperately needs what you have to share. Share it for that one.
As a friend told me recently, "Right now someone is cutting themself. Right now someone is throwing up."
Right now someone is living in chaos, and you could help transform that chaos into beauty. (Tweet this)
You can make all the difference. You matter and your message can be like spun gold.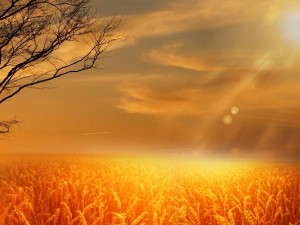 With Love,
Z ;)
Check out my latest publication on Adios Barbie: Men, Eating Disorders, and Chasing Impossible Perfection